Full Mouth Dental Implant
---
An implant-supported full bridge or full denture is the best method for those who have lost all their teeth. Dental implants act as the root of the artificial tooth and hold them in place without shifting or slipping. At Ivory dental clinic, we provide treatment service to provide a complete set of artificial teeth and roots at affordable costs.
We have a team of highly qualified dentist, dental surgeons and other staffs to provide excellent treatment services that are safe and effective.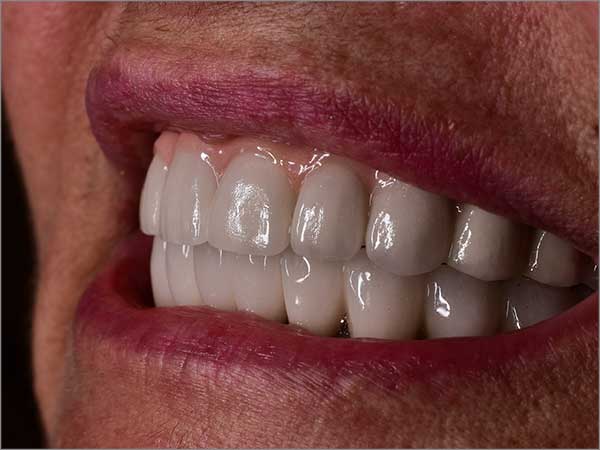 Who are eligible for full mouth dental implant?
Have lost most of their teeth in upper and lower arch
Not prepared to use dentures
Starting to lose teeth due to age or other related conditions
Dental Implant-supported full bridges and dentures
Dental implant is the best and latest innovation in teeth replacement options. They act and function like natural teeth and are long lasting. Dental implant-supported full bridges and dentures are comfortable and stable and provide a more natural biting and chewing capacity.
Dental implant replaces the root of the tooth roots and the jaw bone is better preserved using this method. Dental implants are manufactured using non reactive material and integrate with the jawbone, helping to keep the jaw bone healthy and intact. They improve the aesthetic appearance and are easier to maintain.
Procedure
The dentist evaluates the oral condition and perform test to understand the amount of quality jaw bone available for the insertion of dental implants. After the assessment, the dentist initiates the procedure by administering a dose of local anesthesia to numb the jaw area to reduce the pain and discomfort caused during the procedure. The dentist uses special tool and drills to create a void in the jaw bone and dental implants are placed into the jaw. They look like screws or cylinders and are allowed to bond together to form anchors for the artificial teeth. A temporary teeth replacement option is worn over the implant sites and impressions are obtained to craft customized dentures or bridges.
Later, the temporary cap is removed, the dental implants are uncovered and extensions are attached to the implants that allow multiple crowns to attach to the implants. Now that a strong base is created using the dental implants and extensions, newly crafted dentures or bridges are placed and fixed to abutments or the connecting device.
Another method of full mouth fixed teeth placement is to use an implant that already has the extension piece attached to fix in the teeth. The dentist chooses the best option based on the requirement of the patient.
Advantages of Full mouth fixed teeth Implants
Mimic natural look and improves aesthetic appearance
Fixed permanently to the jaw bones to ensure steadiness
Prevent any occurrences of jawbone atrophy or loss of jaw bone tissues.
No requirement for adjustment to the restoration as they are customized to match patient requirement
To know your chances for full mouth fixed teeth implant and treatment cost, book an appointment now.
Authored By : Dr.Shambhu H Shivanna & Dr. Chiranjeevi Reddy G