Invisible braces
---
Enhancing self-esteem and revitalizing smile using invisible braces is the latest trend in the orthodontic treatment. Using invisible braces offer an esthetic invisible alternative to conventional braces. The length of treatment using invisible braces depends on the severity of the teeth condition and the type of invisible braces chosen for rectifying the problem. Usually it takes around 18 to 24 months to align the teeth and to get the desired result.
Invisible braces are used to treat following teeth conditions:
Overbite
Crowded teeth
Widely spaced teeth
Crooked teeth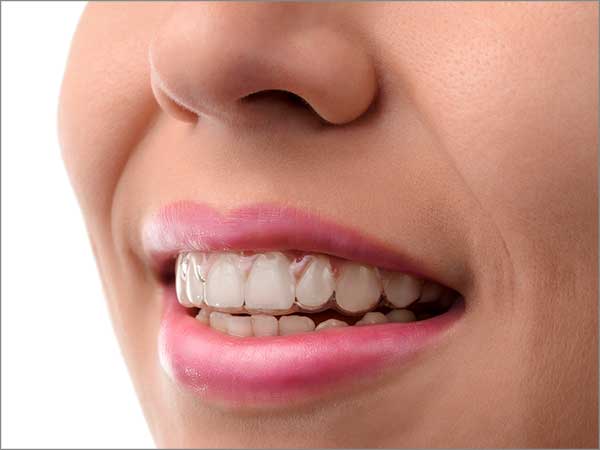 Types of invisible braces
Most common and popular types of invisible braces include:
Ceramic brackets: Similar to metal braces, except they use tooth-colored brackets and wires to straighten teeth.Ceramic brackets are non-staining and blend with the teeth color making them invisible. They are composed of composite materials that are weaker and brittle and require small rubber bands or clips to hold them to the arch wire. Ceramic brackets are fixed and non removable until desired results are achieved from the treatment.
Inside braces: Also known as lingual braces or iBraces are attached to the tongue side of the teeth to move the teeth in proper alignment. At Ivory dental clinic, the dentist captures scanned images of the insides of the teeth to craft computer-designed custom made brackets that are attached to the insides of the upper teeth. Lingual Braces are fixed and cannot be removable until treatment is complete. Inside braces also use elastics to speed up the treatment.
Clear aligners: Clear aligners are series of virtually invisible and removable custom made braces used to straighten teeth. They fit to the teeth to provide irritation-free treatment with minimal adjustments and discomfort. Clear aligners do not require any brackets and can be easily removed for eating, drinking and brushing. Clear aligners have to be worn for a minimum of 20 hours per day. Clear aligners are crafted using three-dimensional impressions of the teeth to custom-fit clear using computerized technology. Clear aligners are provided in sets and each set has to be worn for a specified amount of time for the teeth to slowly adjust and realign to the desired result.
At Ivory dental clinic we have highly qualified and trained dentists on the latest procedures, techniques, and dental products and stay ahead of their peers by keeping informed on the latest trends, products and technology. This benefits our customers to choose the best and experience unsurpassed treatment services from our dental clinic. To know more about invisible braces treatment services and treatment costs, step into our centre or book an appointment now.
Authored By : Dr.Shambhu H Shivanna & Dr. Chiranjeevi Reddy G