Types of Clear aligners
---
Clear aligners are the recent trend in braces and they come as a series of invisible, removable braces and comfortable braces and functions to straighten misaligned teeth.Clear aligners are removable and slide over the teeth.They have to be worn for maximum of 20 hours per day for faster and effective straighten teeth.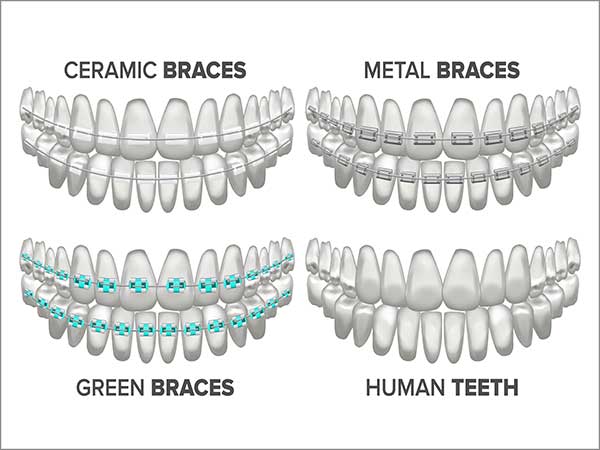 They differ from the traditional braces in any aspects including:
Invisible: Clear aligners are completely invisible
Easy to clean: Clear aligners are removable and brushing and flossing is easy. This reduces the chances for accumulation of food particles.
No chances for mouth abrasions: Metal braces may rub on the inside of the mouth causing irritation. Clear aligners are comfortable to wear to do not cause uncomfortable sores.
Removable braces: Clear aligners can be removed while eating or drinking.
No food restrictions: as they are removable there is no mess while or after eating certain sticky or hard food items.
Promotes healthier periodontal tissue: no risk of inflammation of the gums.
Types of Clear Aligners
Invisalign: series of clear and removable aligners for the adjustment of bite size between 0.45mm and 0.48mm every 4 weeks. Pro-Sys Aligners: Pro-Sys aligner aligns the teeth about 0.8mm to 1.0mm about 3 weeks. These types of aligners are fast acting and require shorter period of treatment time. This is because they cover more of the gums tissues and apply more pressure on the teeth to align and straighten. As the pressure input on the teeth surface is more using this type of aligners, patient may experience mild pain while adjusting to a new set of teeth aligners. MTM Clear Aligners: Minor Tooth Movement clear aligners are suitable for those who require slightly adjusting or aligning the front teeth for a better smile. MTM Clear Aligners are designed to align the front teeth that are shown while smiling and talking. MTM Clear Aligners rectify slight crowding or gaps in front teeth in a shorter period of time of about 3 to 6 months.
At MSR dentistry, we fabricate clear aligners that are clear, custom-made, removable and transparent aligners to match patient requirement. The dentist evaluates the conditions and recommends the best suitable type of clear aligners and number of aligners for faster results and to rejuvenate the smile and straighten the teeth. We use advanced CAD/CAM technology o fabricate sets of clear aligners and discuss with the patient to understand the straightening procedure along with 3D model and gradual realignment of the teeth from their current position to expected result.
At MSR dentistry, we focus on adapting the latest trends in the dentistry and provide treatment services that produce fastest results. We provide custom made various types of clear aligners to straighten teeth as per the client requirement. We have highly qualified and trained dentists on the latest procedures, techniques, and dental products to benefits our customers to choose the best and experience unsurpassed treatment services from our dental clinic. To know more about clear aligners and treatment services and treatment costs, step into our centre or book an appointment now.
Authored By : Dr.Shambhu H Shivanna & Dr. Chiranjeevi Reddy G