Invisalign
---
Invisalign is the latest innovation in dentistry to straighten teeth using removable and clear orthodontic aligners. Invisalign clear tooth aligners are intended for people who do not wish to fix mouthful of metal braces and brackets but need to maintain the smile aesthetics while straightening the teeth. Invisalign comes to picture who wish to align the teeth without affecting the aesthetic appearance of their smile and personality.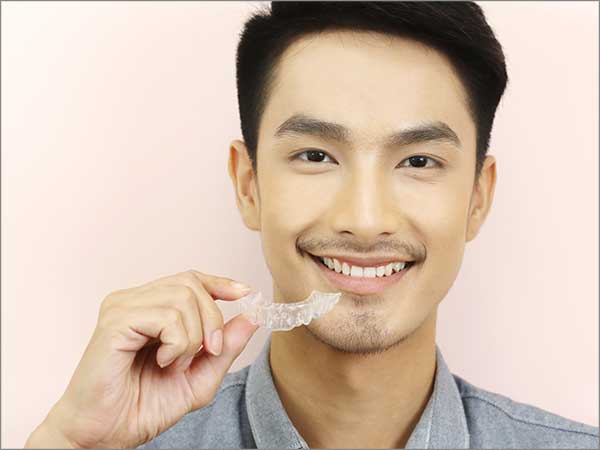 Invisalign uses a series of clear and removable aligners for the adjustment of bite size. At Ivory dental clinic, we craft custom made clear invisalign aligners to fit securely to the teeth. A set of impressions and photographs of the teeth are obtained during the initial consultation to craft a three-dimensional computer projection of the teeth and to showcase the changes that happens to the teeth with little by little movements to accomplish expected result. This provides the patient clear images of the outcome of the treatment plan and the expected result after the orthodontic treatment. We craft perfectly fitting invisalign using computer-aided design and manufacturing processes (CAD/CAM).
Each set of aligners has to be worn for a specific time period for proper management. All aligners are removable making it easy to clean. The aligners has to be worn for at least 20 hours per day for specified time period during which the teeth makes small increments to align in proper position. Most treatment plan requires around 20 to 30 aligners and depends on the degree of teeth misalignment. The treatment period may last up to one year depending on the specific alignment problem.
Who are eligible for invisalign orthodontic treatment?
Invisalign orthodontic treatment is available for adults and teenagers. Invisalign is used to correct following orthodontic problems:
Overly crowded teeth
Widely spaced teeth
Overbite
Cross bite
For mild relapsing tooth movement
Simple malocclusions
Advantages of Invisalign
Invisible aligners
Custom-made
Comfortable with no irritation to gum tissues and teeth
Removable when required
At Ivory dental clinic we provide custom made Invisalign aligners to straighten teeth. We have highly qualified and trained dentists on the latest procedures, techniques, and dental products and stay ahead of their peers by keeping informed on the latest trends, products and technology. This benefits our customers to choose the best and experience unsurpassed treatment services from our dental clinic. To know more about Invisalign aligner's treatment services and treatment costs, step into our centre or book an appointment now.
Authored By : Dr.Shambhu H Shivanna & Dr. Chiranjeevi Reddy G